The Qikiqtani Truth Commission: Thematic Reports and Special Studies represent the Inuit experience during this colonial period, as told by Inuit. These reports offer a deeper understanding of the motivations driving government decisions and the effects of those decisions on the lives of Inuit, effects which are still felt today.
This project is dedicated to the Inuit of the Qikiqtani region. May our history never be forgotten and our voices be forever strong.
Aaniajurliriniq: Health Care in Qikiqtaaluk
Describes the evolution and impacts of government health care programs in Qikiqtaaluk from 1950 to 1975, and the health issues Inuit faced as a result of life in the settlements.
Igluliriniq: Housing in Qikiqtaaluk
Government promises about the quality and cost of housing were an important factor in convincing families that it might be worthwhile to move into a settlement. One of the most consistent themes of Inuit testimony to the QTC was that these promises were not kept.
Illinniarniq: Schooling in Qikiqtaaluk
Describes how a centuries-old way of bringing up children was replaced by an educational system that ignored Inuit realities, culture, and expectations, and failed in its goal of preparing Inuit to find places in a wage economy.
Nuutauniq: Moves in Inuit Life
For centuries, Inuit were mobile, moving seasonally in a symbiotic relationship with the land and its resources. After 1950, the nature of Inuit mobility changed dramatically. The report on mobility examines a mix of voluntary, pressured, and forced moves between 1950 and 1975, usually in response to government priorities.
The Official Mind of Canadian Colonialism
Explores the beliefs of government officials who oversaw the transformation of Qikiqtaaluk.
Paliisikkut: Policing in Qikiqtaaluk
The RCMP and Inuit have a long shared history in Qikiqtaaluk, dating back to the early 1920s when the RCMP first arrived. This report documents this relationship, one that has been fraught with complications and misunderstandings.
Pivalliajuliriniq: Economic Development in Qikiqtaaluk
Examines the transformation of the region's economy from one of hunting and trapping primarily for local benefit, toward one designed by southern planners with the interests of the South in mind.
Qimmiliriniq: Inuit Sled Dogs in Qikiqtaaluk
This study expands on the role of qimmiit in Inuit economy and culture, the management of qimmiit in the period when Inuit were moving into settlements, and the harm done to relations between Inuit and the RCMP and other government agencies by the killings of qimmiit.
Analysis of the RCMP Sled Dog Report
Examines the RCMP's 2006 report on the killings of qimmiit in communities in Nunavut and Northern Quebec between 1950 and 1970.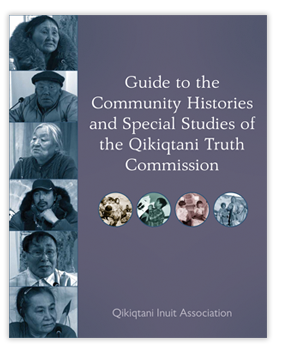 Guide to Reports
This book is the guide to nine special studies and thirteen community histories produced for the Qikiqtani Truth Commission's use. Many of these communities have not previously been the subject of such detailed histories.